In this article we gathered 60 street selling ideas which are best for street vendors, people selling from van , cart or stall or ones who want to invest in a shop near the street. Trade on the streets is  one of the most affordable ways to start a sales business and get many clients. 
Why street selling is one of the best ways to earn money? 
streets are places where there are usually a lot of people
on most streets it is not difficult to find a good shopping spot
people who are your clients can easily and quickly get to you on the street
trading on the street you can easily advertise and reach many people
LOW BUDGET STREET SELLING IDEAS
1. Mini grocery store 
(bread, water, cheese, various types of meat, tomatoes, potatoes, onion, olives, spices, various types of beverages, snacks, sweets)
2. Petty trading of basic necessities
(deodorants, toothpaste, toothbrush, soap, dish soap, adhesive tape, sponges for washing dishes, diapers)
3. Fast food cart
(french fries, burgers, kebab, panini, fried chicken, pizza, burritos, tacos, noodles)
4. Snacks cart
(popcorn, crisps, cookies, sweets, chewing gums, nachos)
5. Flowers
(All you need is a large vase / bucket of water to hold a few dozen flower.)
6. Electric accessories cart
(cables and chargers for phones, headphones, powerbanks)
7. Cases for phones
(You can sell there also glass screen protectors.)
8. Fruits and Vegetables
9. Ice creams and cold drinks
10. Coffee cart
11. Sunglasses stall / cart
12. Fresh Fruit Juice
13. Various small things like "mini flee market"
14. Beauty and make up products
(beauty blenders lipsticks, powders etc.)
15. Child's little toys cart
16. Hair care products and hair extensions
17. Perfumes on cart
18. Vending machine
There are many great money making vending machine business ideas that are perfect to sell goods on the street. For example soda and snacks vending machine, cold beverages vending machine and many more>
Read also: 75 TOP Vending Machine Business Ideas
19. Nuts in sweet icing
(can be nuts in chocolate, in caramel, in sweet butter, or in fruit syrup, and many many more)
20. Caps, Fullcaps, Hats
21. Books
22. Scented Candles
23. Cheap watches
24. Clothes
25. Umbrellas
(and raincoats are perfect to sell during rainy days)
 26. Wooden handmade things
(both decorative, and useful things)
27. Cigarettes
(and lighters, cigarillos, cigars, tobacco, snuff)
28. Belts, pockets and men accessories
29. Crepes vending cart
30. Art
(you can sell paintings, many sellers paint during work, doing two things at once. You can also sell sculptures from wood and other materials)
BIG BUDGET STREET SELLING EXAMPLES
1. Grocery store
2. Clothing store
3. Cafeteria
4. Restaurant
5. Bar
6. Electronics shop
7. Shoe Store
8. Jewelry Store
9. Toy Store
10. Gas Station
(If the gas station is far from the city and many passengers are coming there, it is worth considering creating restaurants or bars in such a place)
11. Cosmetics and Beauty Store
12. Pet shop
13. Music Store
14. Home Accessories Store
15. Bike shop
16. Souvenir Shop
(There are tourists in every country and often they want to buy some characteristic souvenirs.)
17. Sport Shop
18. Skate Shop
(Skateboards, longboards, fishboards, clothes shoes and other accessories for skates)
19. Motorcycle Shop
20. Donut Shop
21. Florist
22. Shop with Art
23. Shop with Accessories for Artists
(Paints, penicils, markers, crayons, paintbrushes, painting canvas and many others)
24. Shop with Electric Scooters
25. Shop with Household Goods
(Vacuum cleaners, washing machines, toasters, microwaves etc.)
26. 3D Printing Store / Lab
(You can buy small 3D printers here on Amazon, and then you can sell your prints and print to order)
27. Gun Shop & Survival Articles
(Pistols, rifles, knives, pepper spray, stun guns, flashlights, multitools etc.)
28. Shop with Watches
29. Car Dealership
30. Pharmacy
Read also: TOP 15 The Easiest Production Ideas for 2020
TYPES AND TECHNIQUES OF STREET SALE
SELLING FROM THE VENDING CART
Vending cart does not cost a lot, and you can even build it yourself in the garage. Thanks to wheels, it can easily be moved to small distances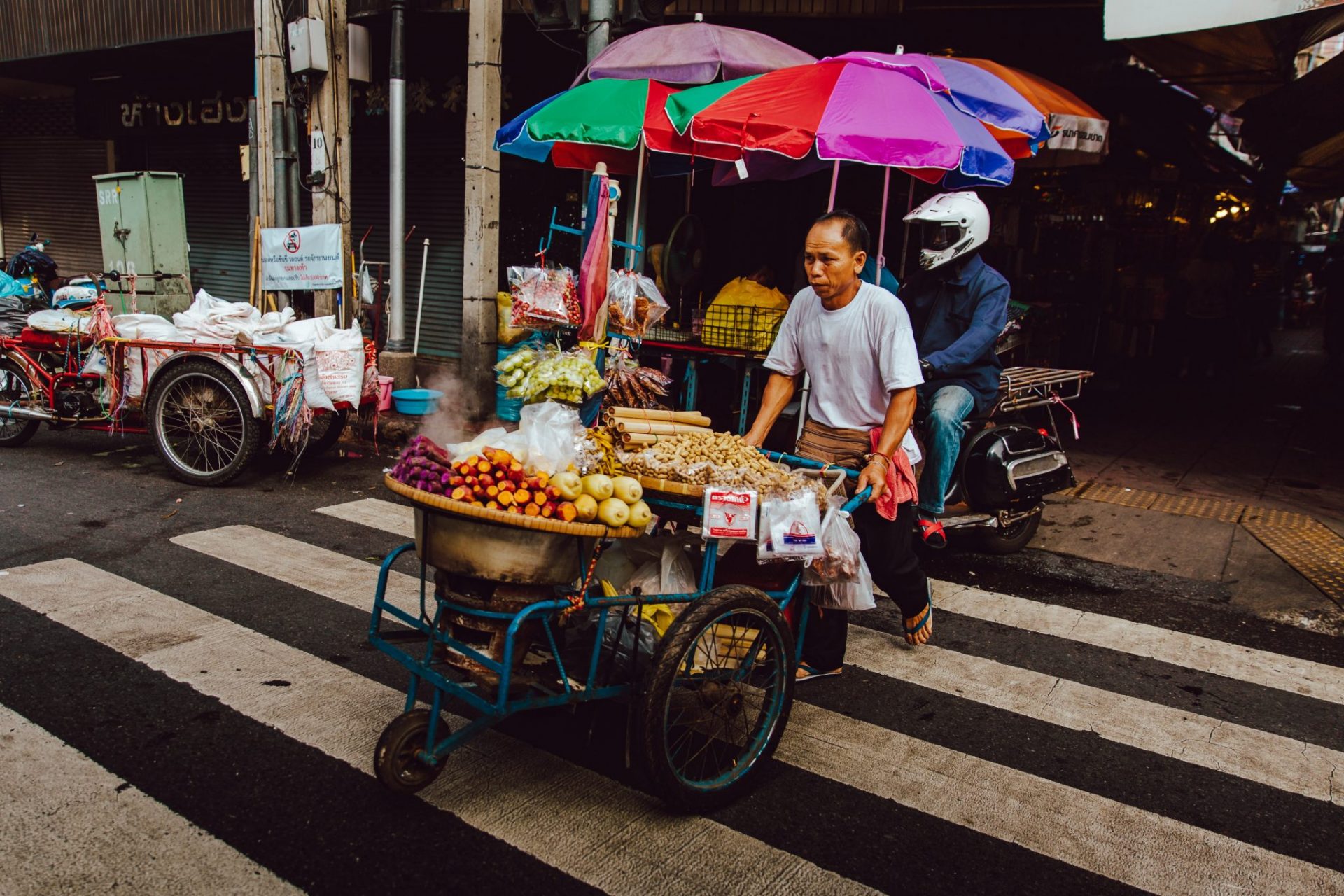 SELLING FROM THE BIKE CART
All you have to do is to attach a large basket or container to the bicycle. The big advantage of the bike cart is that it is very mobile and has ability to tour the whole area which allows to sell during one day in many places.
STALL 
Is one of the cheapest and simplest ways to start earning money. 
There are various types of stalls. The simplest of them does not require anything, it is enough to spread the sold items on the ground.
KIOSK
To have a kiosk you need to get the land owner's consent. A kiosk in busy places can generate as big profits as a store.
MINI-SHOP ON THE TRAILER
Shop in the trailer can stand in different places and it can be transported by car to long distances.
SELLING FROM THE CAR / VAN
Depending on what you will sell, it can be a very valuable business. The advantage of the car is that you can quickly transport goods and that in a short time you can reach many customers in different places.
SELLING FROM THE MOTORBIKE
Motorcycle has the same advantages as a car, but it is cheaper to buy and a little slower. Ideally suits for riding around the area and selling products where there will be the most customers.
FOOD TRUCK
Sale in food truck has a great potential. It all depends on what you will sell (burgers, burritos, toast, ice cream, coffee, or maybe fried chicken?), but even more important is in what location you will sell. Busy places with lots of people are great for food trucks. Sales with food trucks is one of the most profitable street selling ideas.
If you are looking for more inspiration and ideas for street saling, below you can find more of them
In today's ever-changing economy, finding assets that can hold their value and provide stability is crucial. Whether you're an experienced investor or simply interested in preserving your wealth, our comprehensive guide to the top 50 store of value assets is here to...
read more
Welcome to our comprehensive article on the top 100 best selling garden center products. In this article, we have carefully curated a list of the most popular garden center products that are currently in high demand among consumers. Our team has conducted extensive...
read more